City Vision student, Scott Childress, recently shared his testimony in the newsletter of our partner ministry, Place of Promise:
"I started using alcohol, drugs, and heroin in my teens. Soon, I was using daily, and, for many years, I was able to successfully "manage" my drug addictions. After moving to Boston, I worked at a bookstore and then entered the music industry. Eventually I became the district manager of a Downtown Crossing record store. By then, I was using $300 worth of drugs a day and began to steal money from the store and to sell drugs to feed my habit.
Ultimately, I lost everything: job, home, car, and fiancée. I was homeless, broke, strung out, and living on the streets in Boston. On a good day, I was able to find a dry piece of cardboard to sleep on under the 93 overpass. I was less than human – filthy, sick, hopeless, and alone.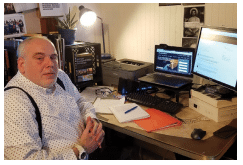 After a while, the drugs no longer eased the pain, and I became sicker and sicker. Unable to walk and full of infections, I was in the hospital for 3 months. When I had to leave, I had one set of clothes and nowhere to go. The hospital suggested calling Place of Promise – it didn't cost anything, and I could stay there as long as needed. I spoke to Beth on the phone and told her what a mess I was and how desperate I was for change. She listened and told me about the faith-based program at PoP and that she would save a bed for me if I went to detox.
I arrived at Place of Promise on January 2, 2018, and I was really nervous. The first 40 days were difficult and everything was new. Being in a house was new, having clean clothes was new, having food was new, having a toothbrush and toothpaste were new. Jesus was new. Reading the Bible was new. Life Skills classes were new. Learning about relapse prevention, forgiveness, repentance, confession, setting healthy boundaries – all tied to the Word of God – was new…
While I was…healing, I learned that God loves me, that I had worth, and that He has a plan for me. As I read the Gospels, I began to see that Place of Promise does what Jesus does. He heals, He feeds physically, emotionally, and spiritually, He gives strength, He teaches, and He wants to be in relationship with you. I accepted Christ as my Savior.
God made it clear to me that I was to go to Bible College and enter ministry. I don't know what that will ultimately look like, but I trust Him.
I just completed my first quarter at City Vision University online and got all A's and B's. The new semester started June 1st.
…I never thought I would be alive, clean, leading a 12-step group, and going to school for ministry. [I am grateful to all those who have] given me the time, space, and help to recover and begin a new life centered on Christ. "